The most expensive watch ever sold
The most expensive watch ever sold
The most expensive watch ever sold at auction.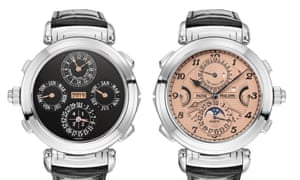 A Patek Philippe watch has sold for a record 31m Swiss francs (£24.2m) at a charity auction hosted by Christie's in Switzerland. It is by far the highest price ever paid for a wristwatch, and all of the proceeds will be donated to research into muscular dystrophy.
The Patek Philippe Grandmaster Chime 6300A-010, which was created specially for the charity auction Only Watch, was bought by a private telephone bidder following a five-minute auction at the Four Seasons Hotel des Bergues, in Geneva, on Saturday. It had been expected to sell for SFr2.5-3m.
The watch beat the previous record, set by a Daytona Rolex once owned by Paul Newman, which sold for $17.8m in 2017.
Sabine Kegel, the head of Christie's watch department in Geneva, said the watch was "the most complicated wristwatch ever made … it does nearly everything except making coffee". She said the watch had attracted "a lot of interest from new clients because it was a charity auction".
The watch has four spring barrels driving 20 complications and features a reversible case with two dials in rose gold and black. It has five chiming modes, two of which are patented world firsts: an acoustic alarm that strikes the pre-selected time and a date repeater sounding the date on demand.
Kegel, who had been on the phone to a rival bidder during the auction of lot 28, said the room erupted with applause when the gavel came down. "It was really very exciting, and there was such a great atmosphere in the room with standing ovations after each sale," she said. "So much money was raised that the scientific research can now go ahead to clinical trials."