To celebrate the 75th anniversary of the D day landings we thought we would focus on military watches, from the era and what is available today.
As a footnote, it is important to remember that we have the military to thank for the creation of the wrist watch. Back in the 1800's wristwatches were only made for women and were very much considered by men to be just a piece of jewellery, until men at war, with both hands occupied, would benefit from having a timepiece on the wrist.
Initially it was a pocket watch strapped to the wrist, until a smaller more suitable timepiece was developed.
BRITISH
The main suppliers to the British military during the second world war included Rolex, Jaeger-Lecoultre, Breitling, IWC and Omega, all first-class world renowned brands. 
Watches that fulfilled the demanding standards earned the right to have the British "Broad Arrow" engraved on the dial and case back.
Threaded case backs were used and special efforts put into water proofing. Watches that met the required water proofing standard were engraved with the letters W.W.W.(waterproof wristlet watch).


Germany had their own military watches too. The watch making industry already existed in the country during that period. It was said that the German military had more stringent standards than the British, and their watches produced with better design and finishing.
GERMAN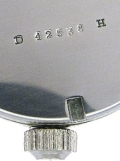 Watches that met the German standards had the letters DH engraved on the case back. German military watches were supplied by many renowned watchmakers with A.Lange & Sohne leading the list. 
Unfortunately, German military watches from the WWII period that are still existing today are extremely rare, compared to those of the U.S and U.K. This is probably due to a European movement to destroy everything related to the Nazis.
JAPANESE
Prior to the Japanese surrender in 1945, the Japanese Navy was famously known for using " Kamikazes " – suicidal pilots who crashed directly into U.S. warships – a last ditch effort to slow down the powerful U.S. Navy advance.
This rare watch, the Seikosha "Kamikaze", was on the wrist of these imperial pilots as they made their last descent.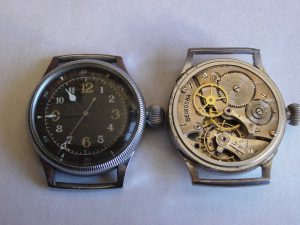 The name of this watch may sound familiar, and that's because Seikosha was a branch of the popular watch company Seiko that has produced watches and clocks for military and civilians since the 19th century.